Day 1: ⛴🐳 普吉特湾观鲸之旅
Summer is the whale watching season in Seattle. We booked a 4-hour tour with Puget Sound Express, and boarded their vessel, Saratoga Express, early in the morning at port of Edmonds.
夏天是西雅图观鲸的季节。于是蠢蠢欲动的我们订了一个4小时的观鲸tour,早起赶到Edmonds登上了Saratoga号。
Puget Sound Express承诺,如果一路上没有看到鲸,他们会免费给游客一张下次再来的船票。
If you don't see whales on your trip, we will give you a voucher for another trip on us.

Puget Sound Express
The first half of the journey was pretty "boring". Not a single whale, even though we did see some other creatures…
旅程的前半段有些"无聊"——我们并没有看到任何一条鲸。不过还是(远远地)看到了一些其他的动物,比如海狮(还是海豹?)
… and architecture.
Before we knew it, the vessel started making its way back south, via the Deception Pass, into the Skagit Bay.
不知不觉,船开始向南返航。与去时不同,回程的路线是经由Deception Pass和Skagit Bay。
Still, we didn't see a whale… until 70% of the journey was completed – when the captain yelled "There she blows!".
可是我们仍然没有看到一条鲸……直到旅途接近尾声的时候。
Shortly afterwards, we saw another male grey whale. But it was smaller in size and further in distance, so I wasn't able to capture a good photo of it with my kit lens. (P.S. Daisy bought me a new camera and lens right after this trip. Love you ❤️)
不一会儿,我们又看到一条雄性的灰鲸。只是距离太远,而且雄性的尺寸也比雌性小了不少,所以并没有拍到清晰的照片。
That's a wrap. They escaped giving up a voucher 🙁
Day 2: 🌇🎡🍽 摩天轮夕阳晚餐
We have never dined out since the pandemic. As the situation getting better (hopefully), we decided to dine out somewhere fancy and high end.
自从疫情开始以来,我们从未下过馆子。随着我们自己打完了疫苗,以及统计数字增长的放缓,我们决定冒一次险,下一次馆子——确切地说,上一次馆子。
So, here we (and our food) are, in a Gondola, on the Seattle Great Wheel.
于是,我们的菜端上了摩天轮。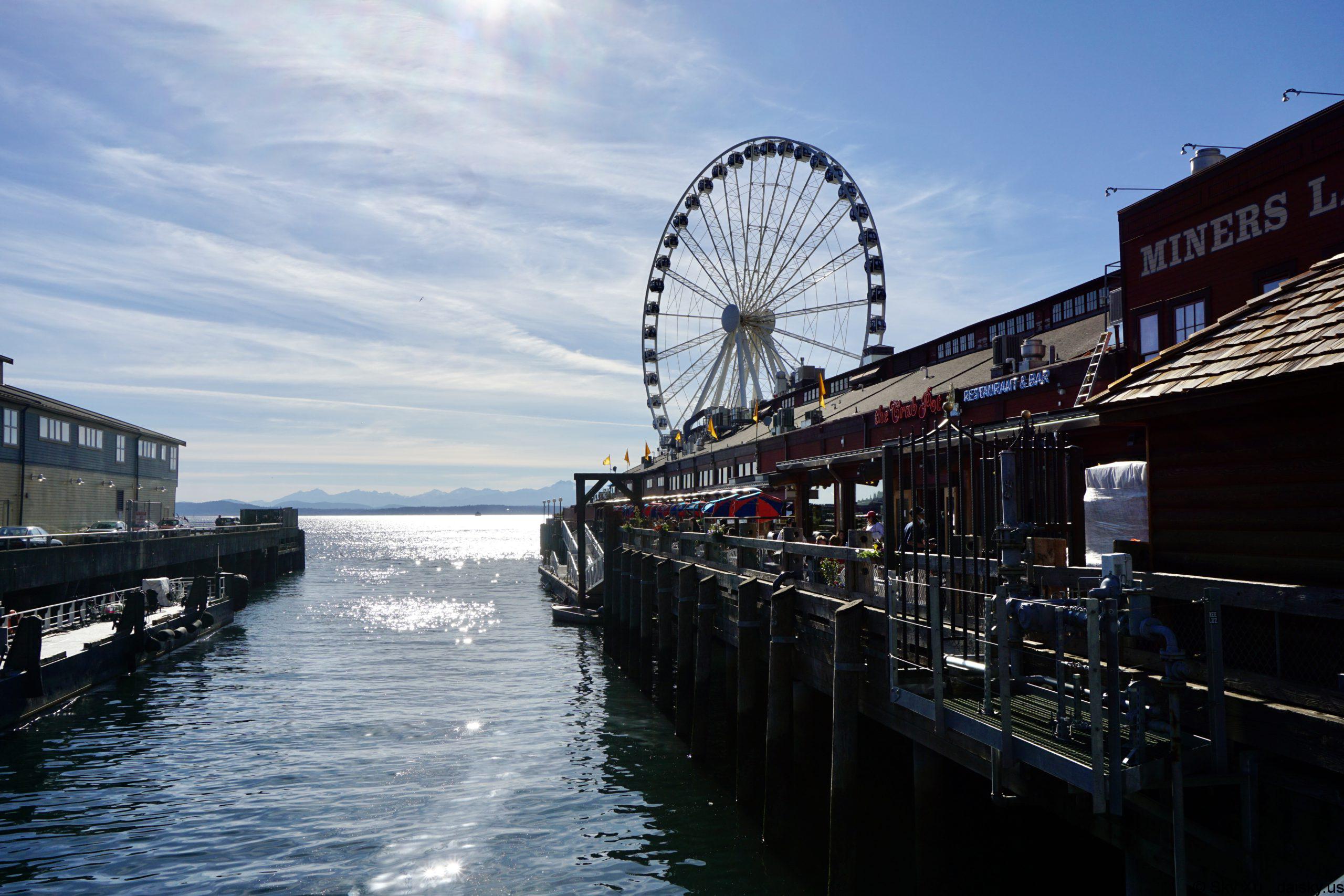 The food was… not good in my opinion, considering it costs over $150 per person (a regular Seattle Great Wheel ride ticket costs $15, for reference). But, the sunset view was great.
说实话,食物非常一般,尤其考虑到这实质上是一份超过150刀,不可定制的套餐(摩天轮本身的常规票价是15刀)。当然了,黄昏日落风景还是很美的。